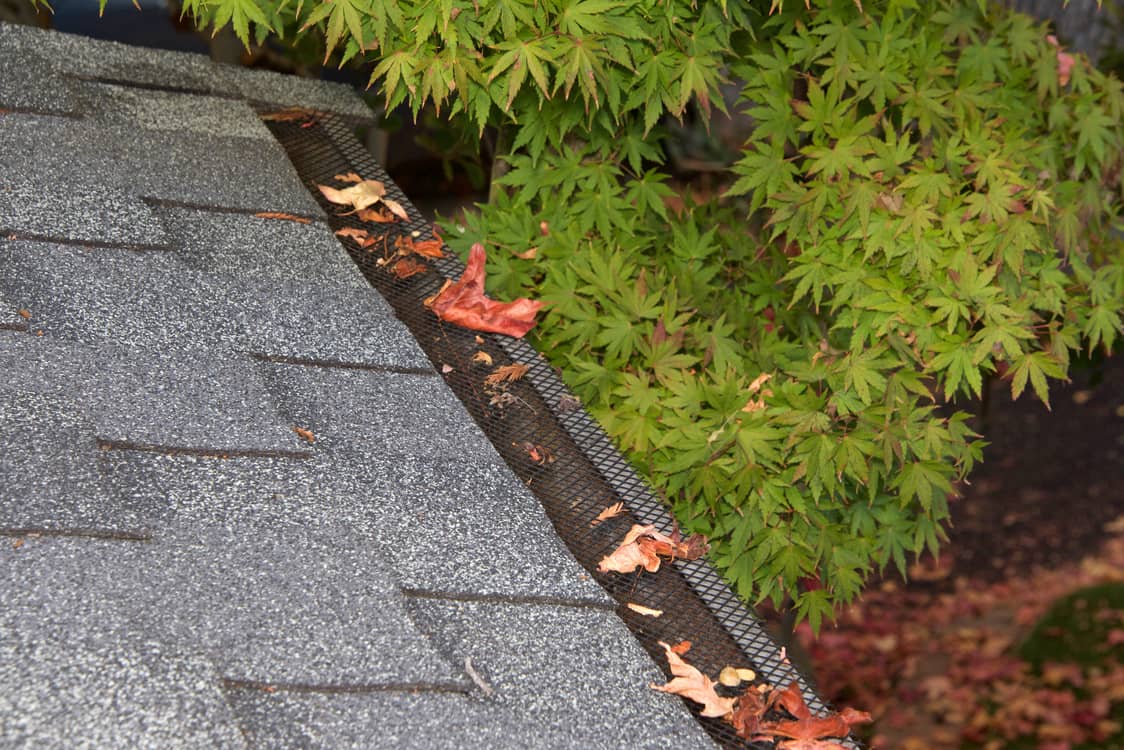 Keeping your gutters clean is a tough task. Not only do you need to keep the debris out of the gutter, but you also have to keep the downspouts free and clear as well. The best way to keep the large pieces of pine needles, leaves, and other flying objects that land in your gutters away, is by installing gutter guards. Keep in mind that you will still need to conduct maintenance. Ever wondered how to clean gutters with guards? Sweep or blow off the large items that have fallen on top. Then remove the guards and clean the gutter.
Let's take a look below at how to clean gutters with guards.
What Are Gutter Guards?
Typically, gutter guards are built with a mesh-style material that is flexible enough to attach to the gutters. The precise objective of a gutter guard is to keep leaves, twigs, pine needles, and any large items out of the gutters. The best part is that you can use a blower to remove the large debris from the top of the gutter guard system. It is recommended that you clean your gutter guards twice a year. Also, remove the gutter guards to rinse out the gutters.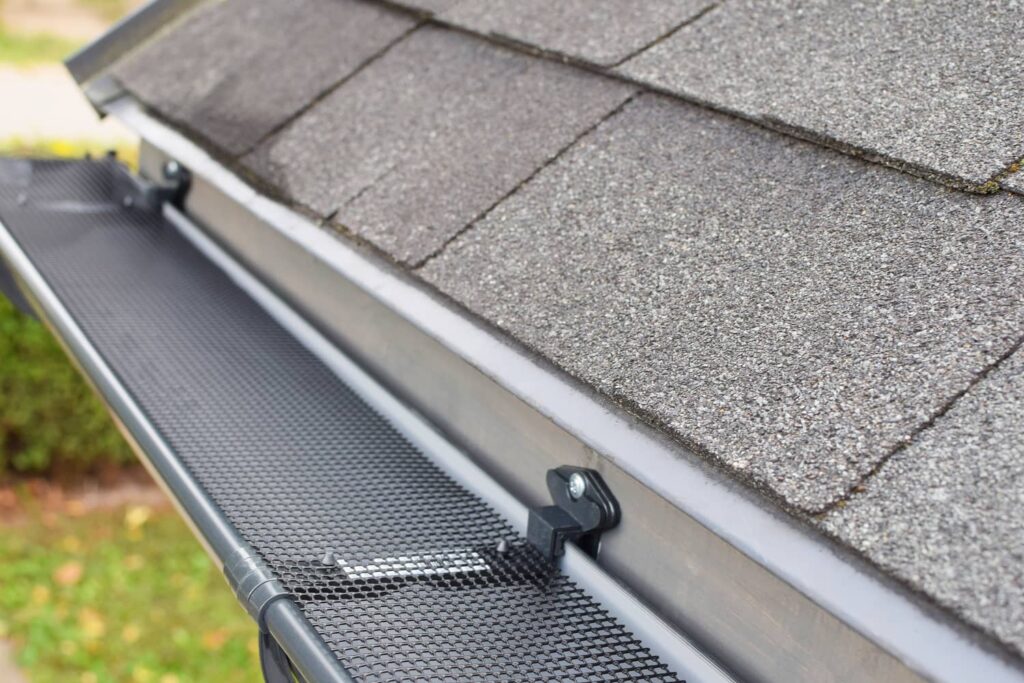 What Tools Do I Need?
Any do-it-yourself project requires tools, equipment, and materials. In this case, cleaning the gutter guards has a fairly extensive list. Let's take a look below at what is recommended for successful project completion.
How Do I Maintain Them?
Believe it or not, most projects have instructions or recommended directions in order to complete the project. This project can be accomplished in many different ways, so let's take a look at a basic order of cleaning your gutters with a gutter guard.
Find a sturdy base in your yard and place your ladder on that base. Have a friend or relative stay to secure the ladder while you go up and down it.
Before going up onto the roof put on your safety attire to protect you from unusual finds like biting insects or thorny branches.
Carry your bucket up the ladder. Once you reach the top of the ladder you can rest the bucket on the roof.
Remove all debris and place it into your bucket. Then get your garden hose and spray down the gutter guards with high water pressure. Remove the gutter guards and rinse the gutters from any dirt and debris that settled through the gutter guard.
After you have thoroughly cleaned the gutters, re-attach the gutter guards.
Finally, check your downspouts to ensure that they are free and clear of debris. Give it a good rinse and watch the water flow freely out of the bottom of the spout.
How Much Does It Cost?
Purchasing gutter guards can vary depending on where you live and the company that you hire. In most cases, the cost of gutter guards ranges from $.50 to $1.50 per linear foot. Also, to get your gutter guards and gutters cleaned you will spend between $150 and $300.
Other Recommended Maintenance
Now that you have an understanding of how to clean gutters with guards, you might want to determine if the investment is necessary. Determine if the guards are a waste of money or a great investment. Do your research to determine if the pros and cons line up with the needs of your home.
Next, understanding how your gutter system works and what is involved is important. For example, knowing how far your downspouts should extend away from your home is key. Keeping the water flow away from your home will protect the foundation of your home.
Lastly, when you notice the lifespan of your roof is dwindling, you might need to get a roofing certification. This type of certification is for your home insurance company and includes everything on or connected to your roof. This includes the gutter system.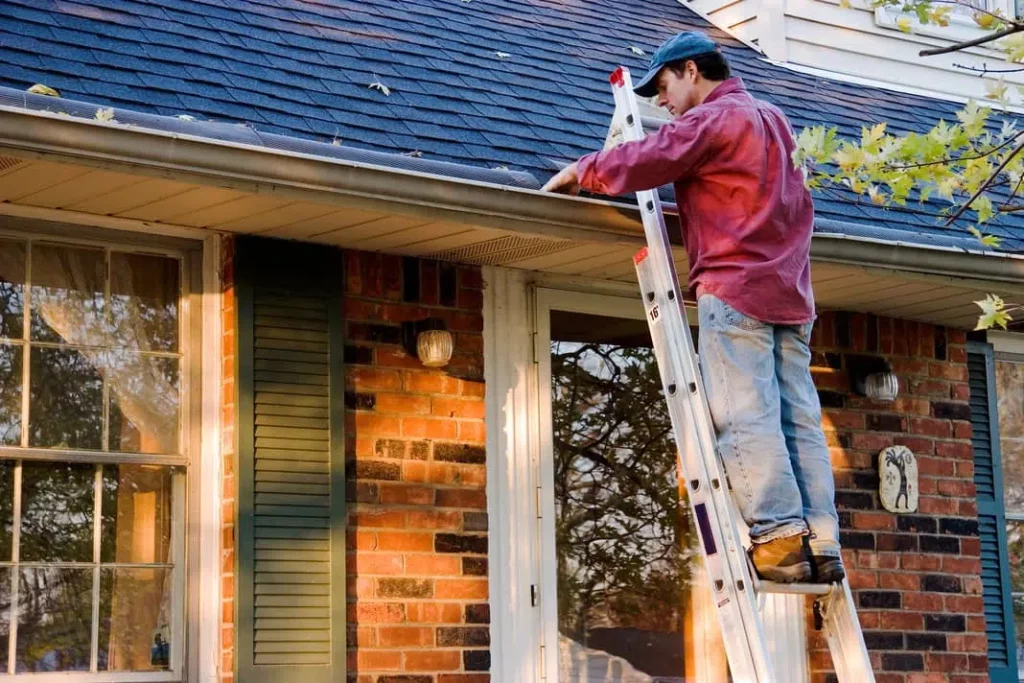 When Do I Call A Professional?
When it comes to your gutters, hiring a professional gutter cleaning service is a great idea. Not only does it save you time, but it keeps you away from climbing a ladder. Some homeowners are not good with heights and climbing a ladder to clean the gutter guards and gutters will be problematic. Reach out to your local home inspection team to inspect your roof and gutters before calling a gutter cleaning service. Also, they can recommend a reputable gutter cleaning service in the area.
Conclusion
Placing gutter cleaning on your home's maintenance schedule is a great idea. Always keep a checklist of what indoor and outdoor maintenance should be. This way you don't get overwhelmed and forget to provide even the smallest items with maintenance. Call on your local home inspection team the moment you notice any damage to your gutters or if you need a recommended cleaning service. Reach out to Atkinson Inspection Services can provide a roof certification when performing a roof inspection in Orlando, Clermont, and the Villages.