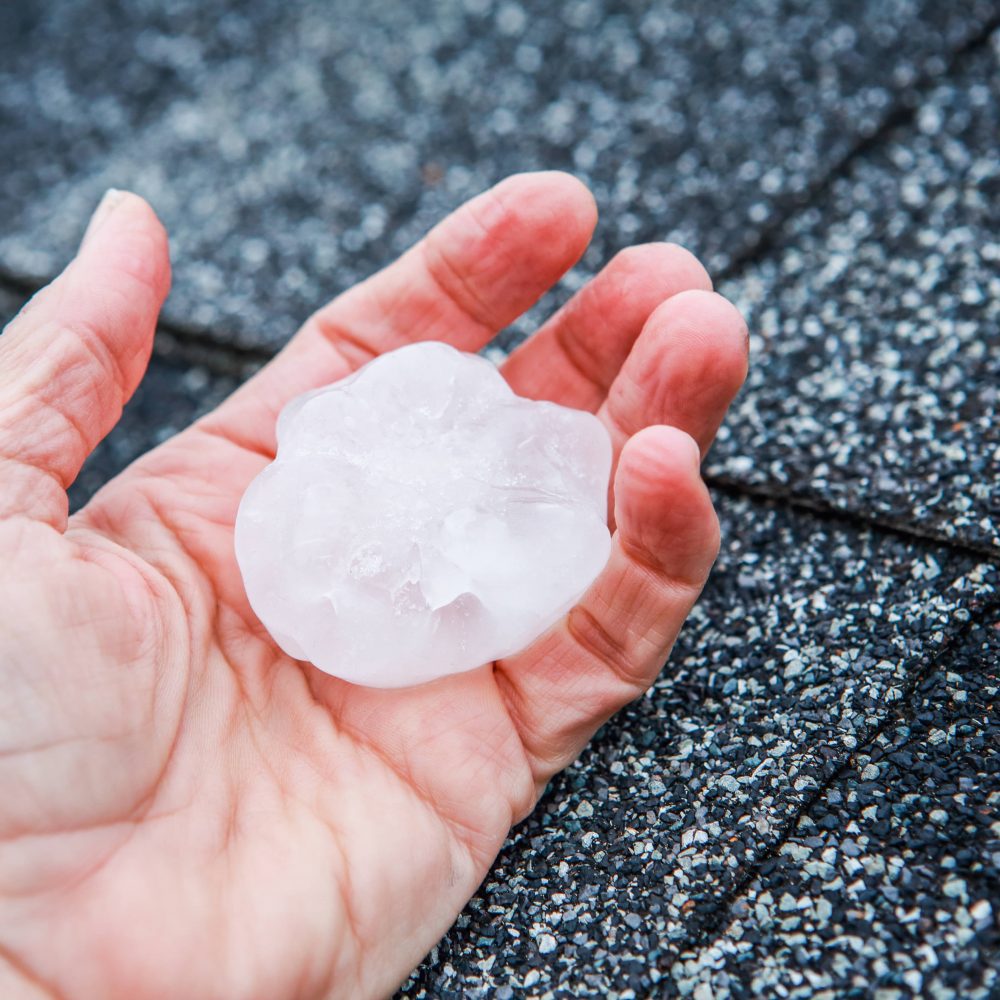 After a long day on your feet cleaning the home, you make your way to the kitchen to prepare a meal. While preparing your meal you notice that the weather is turning very troublesome and the wind has picked up substantially. Balls of ice begin to dance on your driveway and concrete deck and you think to yourself, oh darn, it's a hail storm. At this point, you will be home as long as the storm takes to move through and you hope that your home suffers little to no storm damage from this hail.
Since you have time on your hands as you wait out the storm, you decide to look up the following. What does hail damage look like on a roof? Simply put, you will see, dents, dings, bruising, missing shingles, and exposed matting.
Unfortunately, you won't necessarily notice everything. So, it is vital to call on a professionally licensed roofing contractor, your insurance adjuster, and a home inspection company. Together, they can all assess your damages safely and provide estimates for replacement or repair costs.
Let's take a look at some more details regarding hail damage to a roof.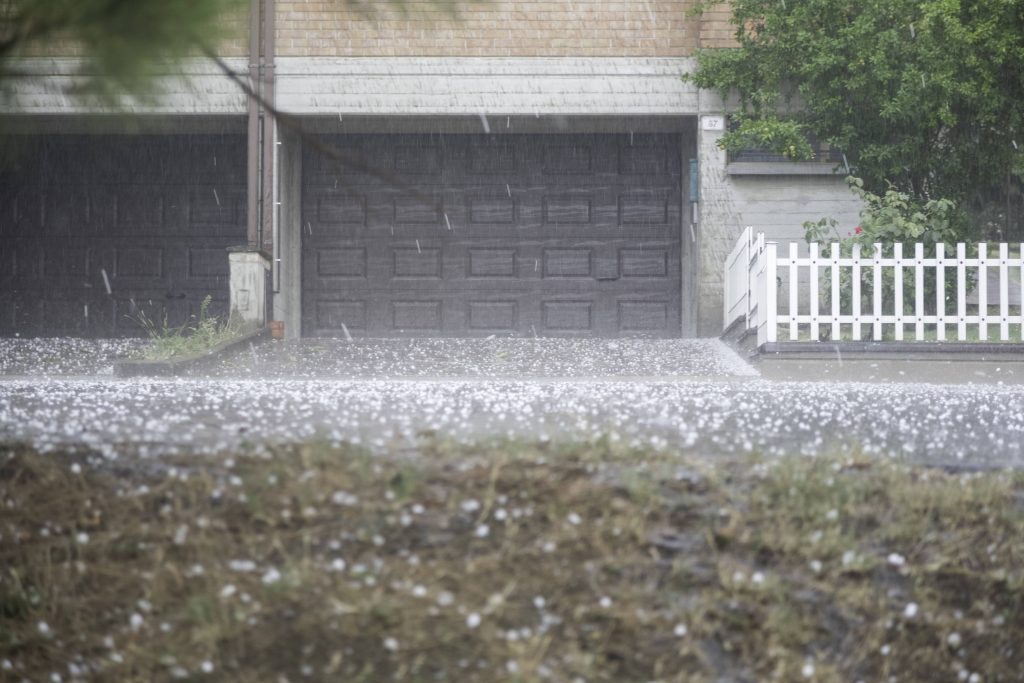 How Does Hail Damage the Roof
Hail roof damage can occur due to a variety of factors and varies depending on the types of roofs. Those factors include:
Hail Size – could range from a quarter to a tennis ball in size
Wind Speed – varies by state and storm strength
Wind Direction – varies by climate
Materials of the roof – varies by home and the roofing company who installed it
How old the roof is – varies by home construction
The slope of the roof – varies by home specs
In many cases the damage is cosmetic, however, it could very well end up being a destruction of the shingle(s). Broken edges, punctures to the shingles, loss of granules, and bruising of the shingles are all functional issues of hail damage to the roof.
What Does Hail Damage
What does hail damage do to the roof and what does it look like? Let's take a look at some of these details:
Granule loss – losing granules off the shingle expose the asphalt coat and allow for a more rapid aging process.
Fiberglass mat exposure – the force of the hail can loosen a shingle and move it as such that the fiberglass mat is exposed.
Damage to the fiberglass mat – once expose the fiberglass mat are a protective layer to your roof sheathing. Important to ensure it is completely in tact.
Shingle cracks – cracks in the shingle can leave the roof exposed to potential water damage.
Damage to the self – seal strip-a weakened seal strip will allow the shingle to blow off your roof during a wind storm. Important to check the shingles to make sure that after a hail storm, there are none loose.
Understanding these areas to check will allow you to possibly save money on future repairs and could prevent you from having to invest in an entirely new roof.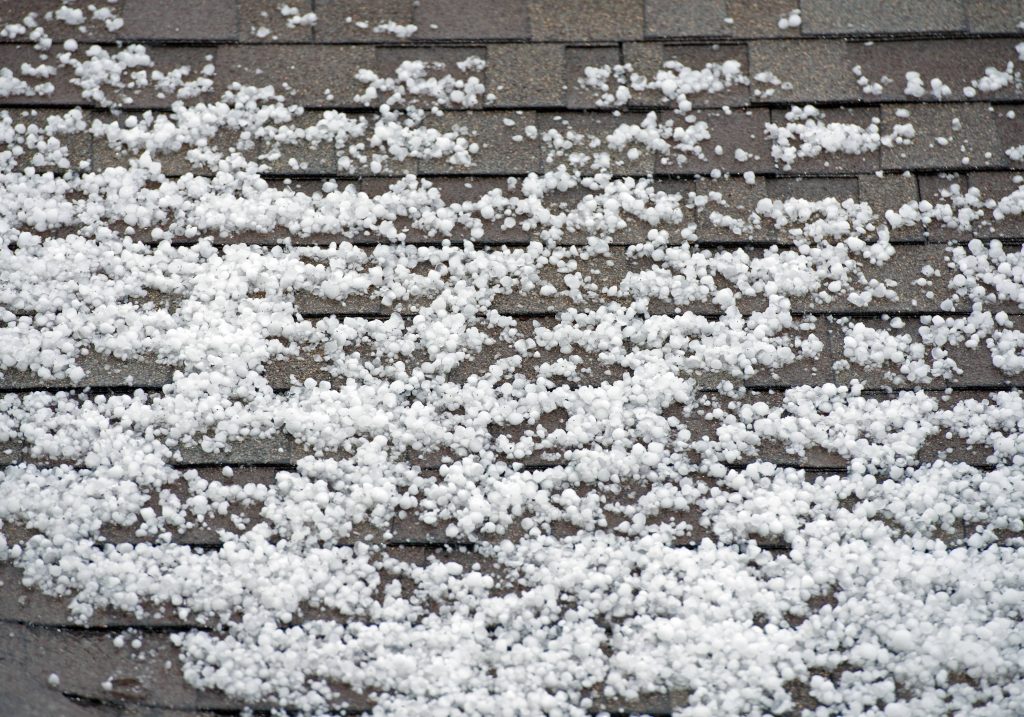 How Much Do Repairs Cost
First, you will want to get an amount of damage report from a professionally licensed roofing contractor. Also calling out an insurance adjuster so you can file a claim and determine the damage to your home. The national average for a leaking roof repair is $750.
However, if you have major hail damage, you are looking at a huge cost of repair. The cost range depending on damage and materials needed can be between $2,000 to $12,000. The cost of a total roof replacement varies by materials and labor charges in your area.
Think about the age of your roof too. If you have architectural shingles, they last about 30 years outside the state of Florida. Unfortunately, it is less in the hot and humid states. Also, three-tab shingles last about 10-15 years in states with severe weather. When looking at repairs, factor in the cost of the roof if it is near its time.
Other Recommended Maintenance
While you are getting your roof inspected for hail damage, you will want to consider other roof inspection items. Here is a roof inspection checklist you can use to look for any exposed nails, missing tiles, or flashing to name a few. Lastly, if there are damaged shingles, they should be repaired or replaced.
Another area to check is the ceilings to make sure there are no wet spots. Wet spots can signal that there is a leak in the roof. Often wet spots on the ceilings mean there is damage to the roof. See if there are damaged shingles or missing flashing, or weakened seals around roof vents. You may need to call a professional to check for you.
Lastly, while you are wrapping up your inspection of the hail damage, you will want to make sure to check all roofing materials. It is also recommended that you inspect the flat roofs of your patio if you have one.
When Should I Call A Professional
Call a professionally licensed roofing contractor if you are concerned about hail damage to your roof. A professionally licensed roofing contractor can give you advice. Also, if you are missing any of the shingles and have substantial damage, a professional can help with a replacement cost estimate.
Conclusion
It can be difficult to monitor the damage on your roof after a major storm. Before getting up on your roof after a major hail storm, you will want to call a professionally licensed roofing contractor and a local home inspection company.
The home inspection company can provide you with an estimate of damages for your insurances company and your roofer can give you a quote on repairs. Atkinson Inspection Services can check your roof when performing a roof inspection in Orlando, Clermont, and the Villages.